Soylent, day a lot after.
I did Soylent for a week. It went pretty well! Â I lost weight and stopped feeling shitty after 2-3 day, as well as had normal/clean poops. Â The first few days were not so.
I believe I was a bit sharper mentally, mostly from cutting out sugar. Â I had no giant leaps of awesomeness, so I suppose I wasn't deathly allergic to anything in my normal diet. Â Because my wife cooks awesome meals and Soylent was a bit of work to make, I went back to a conventional diet. Â Maybe someday I'll be able to cut out Mountain Dew. Probably not.
Anyway, gear reviews. Â As you all follow my blog religiously, since I write in it religiously, I'll let you know how my backpacking trip went.
Also, I went on a 6 day backpacking trip to Glacier National Park.  At the end of May, my mother in law died.  It's been pretty rough for a bit.  Meg went to Italy for 2 weeks and said I could stay home and watch the dogs. I went backpacking instead in attempts to find myself, or recharge my chi, or just  have a good time.  I go a little more gear crazy than I go most things crazy.  I have a Google Docs spreadsheet with all my gear, the cost, and more importantly, the weight.  I got my base pack weight to ~15lbs.  Total starting weight was ~26 lbs, and end weight was ~18 lbs.   I splurged in some unnecessary places, but that should be fixed another time.  On to the GEAR!
Lightheart Solo Tent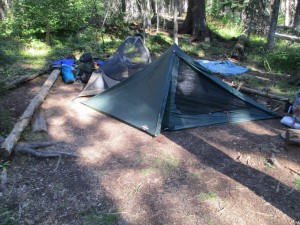 This was my first time with this tent. Â I was pretty stoked to use it. Â It lived up to expectations. Â I got it from Lightheart Gear, and I'd recommend it to almost anyone.
It uses trekking poles as supports, so I'd recommend using trekking poles, or the tent will just be a dead weight on the ground. Â The tent itself is 29 oz, and with the PVC top support and stakes, it comes out to a hair over 2 lbs, at a seam-sealed cost of $280. Â This is quite competitive with best-in-class big brand tents, which are ~2.5 lbs and can be $100 more. Â And don't we want to support mom and pop shops instead of the big brands? Â Maybe. Â Anyway, the tent packs down super tiny, especially as you will be trekking with the support poles instead of carrying them. Â It has an integrated rain fly, which as you can see in the picture, can be pushed up on pleasant evenings. Â It got pretty cold on my trip, so the fly was always down. Â It's really a double wall tent, with mesh all around + rain fly, so even though there was plenty of condensation in the cold weather, I never got got wet. Â My hands did get pretty cold packing it up in the morning, but that's not the tent's fault.
All in all, I'd give the tent an thumbs up. Â If I could change anything, I'd perhaps add some top vents, but without adding any weight or bulk, which is probably not possible. Â I don't think you can do better than this tent for 3 season backpacking. Â For me, (5'8″, 160lbs) there was plenty of room to stretch out and fit all my gear inside the tent as well. Â This was good, since there were plenty of goats that wanted to eat my shoelaces if they got the chance.
The footprint is larger than some other tents – it's not freestanding, so you need to stake it out in windy or wet conditions. Â If you have to share small camping spaces designed 2 tents with a group needing 3 tents, it make things a little tight. Â We managed, but it was more cramped than we liked.
Verdict : A+, will use again
Osprey Exos 46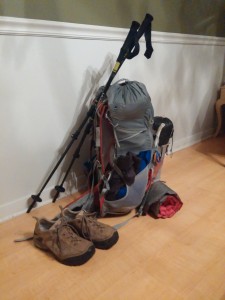 I probably shouldn't review a pack that is discontinued. Â I've had it a few years, and used it on a number of trips, so I should say something good about it. Â Measured weight for this pack is 2 lbs, 4oz. Â I took off the top, and it was 2 lbs even, but then put it back on after my packmates mocked me for trying to shave off ounces. Â I shouldn't listen to them though – their packs started out ~50lbs vs my ~25lbs, so they were just jealous.
At 46L capacity, it's a good deal smaller than many other packs. Â This just motivates me to shave off bulky gear. Â After packing everything for our 6 day trip, I still had room to spare somehow, unlike my 65L and 90L companions. Â The 90L companion did bring battery powered speakers to go with his iPod, so I suppose we had a bit of a difference in philosophy.
The pack is very comfortable for me. Â I hear it's not so comfortable for chunkier people, so I better keep watching my weight. Â <25lbs is great with this pack. I've done with closer to 30lbs, and it starts getting a bit uncomfortable. Â There's pretty much zero padding in the belt straps, and minimal in the shoulders, so it's really not designed to cope with heavy weights…and with only 46L available, there's not room for it either.
The volume measurements do NOT include the capacity of the pockets, and the large back pocket is perfect for stowing my Lightheart tent + stakes, as well as rain shell and insulating layer as necessary.
On this trip, I (for the firs time) ditched my compression sacks. Â I put my sleeping bag in first and let it naturally compress into the crevices in the bottom of my pack, packed my food around it, and did the same with my clothing bag – didn't compress it, just put it in a drysac and let it mold to whatever shape the rest of my gear pushed it into. Â This was the right move for me in this pack – it felt super spacious.
The only noticeable downside is that the belt straps either stretch or slip – when the weight is in the mid twenties or higher, I have to readjust the straps fairly frequently. Â  This can get annoying, but the pack is still comfortable. Â With some weight removed, the problem is mitigated. Â I'll blame myself for bringing too much stuff, rather than blame the pack for not pulling its (and all the rest of my equipment's) weight.
Especially after some food weight was gone after the first day or two, the pack rode like a dream. Â I think this is my third trip with the bag, and it's still going strong. Â Unless I go on a longer cold-weather trip that requires bulkier gear, this should be my go-to bag for a long time.
Verdict : A-, will keep using.
MOAR GEAR REVIEWS LATER, MAYBE. Â I'm a bad blogger.