Endless years later…I post. September 2006 was when my blogging all fell apart.  Those were the heady days of Xanga, of calling my comments/kudos boogers and nose picks, insulting whoever I felt like, and keeping the world up to date on what girl I was currently in love with (along with, at times, a running record of girls who were not currently dating me).  If you'd like to catch up with my past, head to www.xanga.com/ihaveablog and take a gander.  I take no responsibility for any damage it may cause you.
I'm currently restructuring my virtual life; minimizing my Facebook/Myspace/crazy internet dating/texting in hopes of getting rid of a lot of the misinterpretation of intent and meaning that comes through those mediums.  Seemed only natural to start blogging again in light of that, aye? Arr.
In case you were worried, yes, I'm still a pirate.
Since I last sailed through the blogosphere in my pirate airship, many things have happened.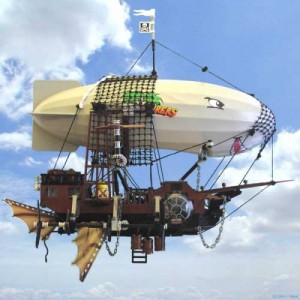 I accidently managed to graduate with a degree in engineering, found myself a job as an engineering project manager, quit my job as engineering project manager, started my own company selling computers/doing IT support, watched the economy fall apart, put my plans on hold, and got a job as a design engineer.  Now I'm a design engineer+entrepreneur+uberBlagger.
I'm falling all over myself with Web 2.5 here. I'm twittering too, under the usual handle.  If you can't figure out what that is, the I'm too scared of your lack of wit to imagine you frolicking hand in hand with me into Web 3.0, which is simply the monetizing of Web 2.x.    Since nobody can define Web 2.x anyway, I've included a handy guide.
Web 0.1Â Â Â  : AOL
Web 1.0Â Â Â  : Geocities
Web 2.x    : ???
Web 3.0Â Â Â  : Profit$$$
You're now an internet pro.  Don't forget. I love you.